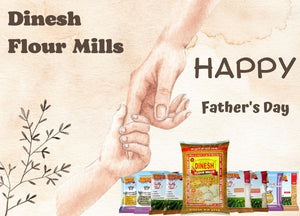 A Legacy of Love and Flour: Celebrating Father's Day at Dinesh Flour Mills
The heart of any home often lies in its kitchen. In Indian households, this statement rings particularly true, and it is in the kitchen where Dinesh Flour Mills finds its origins. As Father's Day approaches, we want to shine a spotlight on this family-owned business that has been serving the Delhi community with its staple flour products for more than four decades. This year, Father's Day isn't just a celebration of paternal bonds, but also a recognition of the legacy passed down through generations at Dinesh Flour Mills.
Since its establishment in 1975 by the late Lakhpat Rai Gupta, the mill has become a household name in Delhi and beyond. With the help of his sons, who were involved in the business from a young age, Dinesh's legacy and passion for quality have made a significant mark on the Indian food industry. His sons continue to carry the torch, embodying the same dedication and hard work their father instilled in them.
For Lakhpat Rai Gupta, the mill was never merely a business venture. It was his labor of love. He strongly believed in the importance of nutrition and its role in promoting good health. Hence, the mill has always prioritized producing high-quality flour with strict adherence to hygiene and safety standards. To Lakhpat Rai Gupta, the mill's work was not just a job, but a public service aimed at bettering the lives of the people in his community.
His philosophy continues to be the driving force behind Dinesh Flour Mills. The sons proudly uphold their father's belief in customer satisfaction and high-quality products, all the while innovating and expanding the business. Over the years, the mill has extended its product line to include a variety of grains, pulses, and rice to meet the diverse needs of their customers.
Father's Day is an opportunity to reflect on the lessons taught and values instilled by fathers, like Lakhpat Rai Gupta, who have made an indelible impact on their families and communities. Dinesh's legacy serves as a reminder that the success of any business lies not just in profit margins, but in serving the community with care, dedication, and a passion for quality.
As we prepare to celebrate Father's Day this year, the story of Dinesh Flour Mills stands out as an example of a father's love and dedication that has flourished into a thriving business. The legacy that Lakhpat Rai Gupta  left behind continues to be nurtured by his sons, who strive to maintain the values and principles he once established.
The patrons of Dinesh Flour Mills will tell you that the love with which  Lakhpat Rai Gupta started his venture is palpable in every grain of flour they purchase. As we mix that flour to make dough for our rotis, it's more than just food we're creating – it's a connection to a legacy, a lineage, and a testament to a father's love that is felt and appreciated every day, but even more so on Father's Day.
As we celebrate all fathers and father figures this Father's Day, let's remember and honor the immeasurable contributions they have made to our lives. Here's to the love and labor of fathers like Lakhpat Rai Gupta, who have shown that, even in something as simple as a bag of flour, their legacy can be found, honored, and cherished.
Visit Our Website Today: https://www.dineshflourmills.com/
 Follow Us On:
Facebook:    https://www.facebook.com/dineshflourmills
Instagram:    https://www.instagram.com/dinesh_flourmills/
Twitter:        https://twitter.com/DineshMills
Pinterest: ..   https://in.pinterest.com/dineshflourmill/
You Tube:   https://www.youtube.com/@dineshflourmills244
 Call/Whatsapp  : 9355135331
 #dineshflourmills  #onlineshoping  #flourpower  #BakeWithFlour  #AttaLove #HealthyBaking  #WholeWheatFlour #GlutenFreeFlour,#milletflour, #keto, #ketodiet ,#mixflour ,#ArtisanFlour #OrganicFlour #HomeBaking #AttaKaDum #MaidaFree #ChakkiFreshAtta #StoneGroundFlour #AttaIsLife  #FlourishWithAtta #BakingEssentials #HighProteinFlour #FlourishAndNourish #BreadMaking #WholeGrainFlour #dfm #groceryhaul #groceryshopping #flour #atta #dfm #softroti #wheatflour #wheatflourmanufacturer #wheatflourmanufacturerindelhi #wholewheatflour #flourwithbran #bran #bigbasket #amazon #onlineshoping #placeorder
---