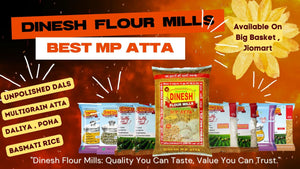 "Dinesh Flour Mills: Quality You Can Taste, Value You Can Trust."
"Dinesh Flour Mills is your one-stop-shop for premium quality food products. With our enduring commitment to taste and value, we take pride in offering an extensive range of products sourced from the finest ingredients. Our offering includes the ever-popular MP Atta, revered for its superior quality and rich taste. Our meticulously selected Basmati Rice guarantees an exceptional culinary experience, with each grain unfolding an exquisite aroma and flavor.
With health as our guiding principle, we provide Unpolished Dals and Unpolished Millets, nutrient-rich and packed with natural goodness. Our Daliya and Poha are carefully processed to retain their wholesomeness and taste, making them the perfect choice for a nutritious, hearty breakfast.
Not stopping there, we cater to the diverse palate of our consumers with our Multigrain Atta, a perfect blend of various grains offering an enhanced flavor profile and health benefits. Our Pasta made from Suji and Macroni is made to satiate your taste buds while maintaining a balance of health and taste.
As advocates of nutritious food, we've also included Oats and Ragi in our product line, perfect for anyone looking for a healthy lifestyle. Our Khand, Shakkar, and Sattu ensure that your kitchen is always stocked with the best quality ingredients for your sweet indulgences.
At Dinesh Flour Mills, we believe in giving you the best because you deserve nothing less. It's not just about the products we sell, it's about the quality we stand for - Quality You Can Taste, Value You Can Trust."
Visit Our Website Today: https://www.dineshflourmills.com/
 Follow Us On:
Facebook:    https://www.facebook.com/dineshflourmills
Instagram:    https://www.instagram.com/dinesh_flourmills/
Twitter:        https://twitter.com/DineshMills
Pinterest: ..   https://in.pinterest.com/dineshflourmill/
You Tube:   https://www.youtube.com/@dineshflourmills244
 Call/Whatsapp  : 8881188864
 #dineshflourmills  #onlineshoping  #flourpower  #BakeWithFlour  #AttaLove #HealthyBaking  #WholeWheatFlour #GlutenFreeFlour #milletflour #mixflour #ArtisanFlour #OrganicFlour #HomeBaking #AttaKaDum #MaidaFree #ChakkiFreshAtta #StoneGroundFlour #AttaIsLife  #FlourishWithAtta #BakingEssentials #HighProteinFlour #FlourishAndNourish #BreadMaking #WholeGrainFlour #dfm #groceryhaul #groceryshopping #flour #atta #dfm #softroti #wheatflour #wheatflourmanufacturer #wheatflourmanufacturerindelhi #wholewheatflour #flourwithbran #bran #bigbasket #amazon #onlineshoping #placeorder #ecommerce #orderfromdineshflourmills #orderproductservices #orderproducts  #placingorder #jiomart #ordergrocery #grocery #dfm #SorghumMillet #BarnyardMillet #FoxtailMillet #LittleMillet #KodoMillet #ProsoMillet #PearlMillet #FingerMillet  #RedLentils #GreenLentils #BrownLentils #BlackLentils #YellowLentils #FrenchLentils #BelugaLentils #SplitRedLentils #SplitYellowLentils #MasoorDal #ChanaDal #UradDal #ToorDal #MoongDal #MungBean #Millets #MilletRecipes #HealthyEating #FarmToTable #GlutenFree #AncientGrains  #OrganicFood
---