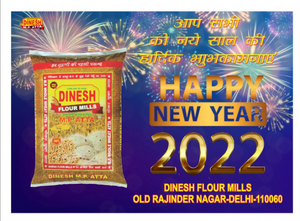 Happy New Year
New Year 2022 is just around the corner. New Year is considered a day of new beginnings for us all as it gives us a chance to start afresh, with a clean slate. It gives us the opportunity to learn from the prior year and make positive changes in our lives moving ahead. Dinesh Flour Mills wishes everyone a happy, fun-filled and a food-rich New Year ahead…

We at Dinesh Flour Mills bring to you the finest ever selection of kitchen raw material you need to shell out delicacies after delicacies.

Be it baking a cake or shelling out tasty finger foods or making an entire spread for a family gathering, you could buy from our range of ingredients and start with your magic wand in the kitchen.

You can buy from us a range of flours, right from whole wheat flour to rice flour to gram flour etc.; a huge variety of lentils & pulses - unpolished and untouched so the nutrients remain intact, a range of rice varieties like parmal and Basmati, Dalia, poha, and double refined sugar.

Buy it all from us to give your family a healthy yet tasty treat round the year, that too in a friendly budget.
https://www.dineshflourmills.com
---