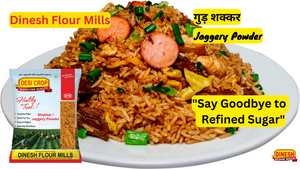 Jaggery Rice Recipe
Jaggery Rice Recipe 
"Make Sweet Rice with the Ancient Sweetener of Modern Times"
Ingredients:
1 cup basmati rice
2 cups water
1/2 cup jaggery powder
2-3 cardamom pods
2-3 cloves
1 cinnamon stick
2 tablespoons ghee
1/4 cup cashews (optional)
Instructions:
Wash rice and soak for 20-30 minutes.

In a pan, heat ghee and add cardamom, cloves, and cinnamon stick.

Add rice and sauté for 2-3 minutes.

Add water and jaggery powder and bring to a boil.

Reduce heat to low, cover, and simmer for 15-20 minutes, or until rice is cooked.

If using cashews, roast them separately and sprinkle over the rice before serving.
Your Jaggery Rice is ready to serve !!
---