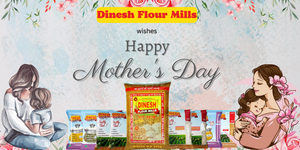 Mother's Day with Dinesh Flour Mills
"Celebrate Mother's Day with the Finest Quality of MP Wheat Sharbati Flour "
Mother's Day is just around the corner, and what better way to celebrate this special occasion than by treating your mother to the finest quality of wheat flour available in the market. Dinesh Flour Mills is proud to offer its customers the best quality MP Wheat Sharbati Flour, perfect for all your culinary needs.
Wheat is an essential ingredient in our daily lives, and choosing the right flour for your family is vital. MP Wheat Sharbati Flour is made from the finest quality wheat grains, sourced from the fertile fields of Madhya Pradesh. This flour is rich in fiber, vitamins, and minerals, making it an excellent choice for maintaining a healthy and balanced diet.
Dinesh Flour Mills ensures that the MP Wheat Sharbati Flour is processed and packaged under strict hygienic conditions, using the latest technology and state-of-the-art machinery. Our flour is free from any harmful chemicals or additives, ensuring that you and your family consume only the purest and healthiest flour.
The unique properties of MP Wheat Sharbati Flour make it ideal for preparing various Indian dishes such as chapatis, parathas, puris, and many more. The flour is finely milled and has excellent binding qualities, making it easy to knead and roll into the desired shape. It is also known for its exceptional taste, aroma, and texture, making your dishes even more delicious.
Visit Our Website Today:
https://www.dineshflourmills.com/
 Follow Us On:
Facebook:    https://www.facebook.com/dineshflourmills
Instagram:    https://www.instagram.com/dinesh_flourmills/
Twitter:        https://twitter.com/DineshMills
Pinterest: ..   https://in.pinterest.com/dineshflourmill/
You Tube:   https://www.youtube.com/@dineshflourmills244
 Call/Whatsapp  : 9355135331
 #dineshflourmills  #onlineshoping  #flourpower  #BakeWithFlour  #AttaLove #HealthyBaking  #WholeWheatFlour #GlutenFreeFlour #milletflour #mixflour #ArtisanFlour #OrganicFlour #HomeBaking #AttaKaDum #MaidaFree #ChakkiFreshAtta #StoneGroundFlour #AttaIsLife  #FlourishWithAtta #BakingEssentials #HighProteinFlour #FlourishAndNourish #BreadMaking #WholeGrainFlour #dfm #groceryhaul #groceryshopping #flour #atta #dfm #softroti #wheatflour #wheatflourmanufacturer #wheatflourmanufacturerindelhi #wholewheatflour #flourwithbran #bran #bigbasket #amazon #onlineshoping #placeorder #ecommerce #orderfromdineshflourmills #orderproductservices #orderproducts  #placingorder #jiomart #ordergrocery #grocery #dfm #SorghumMillet #BarnyardMillet #FoxtailMillet #LittleMillet #KodoMillet #ProsoMillet #PearlMillet #FingerMillet  #RedLentils #GreenLentils #BrownLentils #BlackLentils #YellowLentils #FrenchLentils #BelugaLentils #SplitRedLentils #SplitYellowLentils #MasoorDal #ChanaDal #UradDal #ToorDal #MoongDal #MungBean #Millets #MilletRecipes #HealthyEating #FarmToTable #GlutenFree #AncientGrains  #OrganicFood #sattu #besan  #suji #sugar  #Chia #boora  #gur #shakkar #SustainableLiving #khand
This Mother's Day, surprise your mother with a delicious meal prepared using Dinesh Flour Mills' MP Wheat Sharbati Flour. Our flour is available in various pack sizes, ensuring that you get the right quantity for your daily needs. You can purchase our flour from our website or your nearest grocery store.
In conclusion, Dinesh Flour Mills' MP Wheat Sharbati Flour is the perfect choice for those who value quality, health, and taste. Make this Mother's Day a memorable one by treating your mother to the finest quality flour available in the market. Celebrate your love for your mother with Dinesh Flour Mills' MP Wheat Sharbati Flour.
---