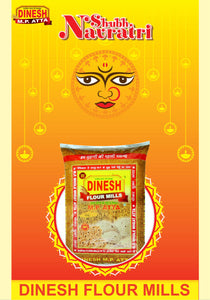 Happy Navratri
Navratri – for the uninitiated – is a Hindu festival dedicated to the 9 Goddesses. It spans across 9 nights and is celebrated for different reasons in different parts of the country. This year, the autumn Navratri is between 7th – 15th October. People observe fast the entire day, eating certain foods and fruits minimally. On the ninth day, the fast comes to an end with a feast of poori, chana, and halva – or its variations in different regions.

If you too are celebrating Navratri, all you need is the right kind of food material to go through it, apart from a pious heart. At Dinesh Flour Mills, we have a wide range of fast specific food material you can buy at affordable prices. From samvak ka atta to kuttu ka atta to singhade ka atta, we have got it all. For the feast at the end of the fast, we have got you covered with high quality whole wheat atta, kala chana, sooji, sugar, etc.

Make way for smooth Navratri fasting and feasting with world class ingredients from your very own DFM.
https://www.dineshflourmills.com
---