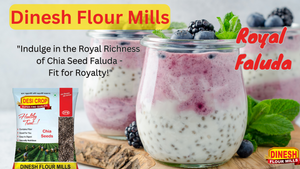 Royal Faluda Receipe
"Indulge in the Royal Richness of Chia Seed Faluda - Fit for Royalty!"
Ingredients:
1/2 cup chia seeds
2 cups almond milk
1/2 cup vermicelli noodles
1/4 cup rose syrup
1/4 cup basil seeds
1/4 cup blackberries
1 tablespoon honey
1 tablespoon lemon juice
1/4 teaspoon cardamom powder
1/4 teaspoon cinnamon powder
1/4 teaspoon vanilla extract
Ice cubes
Instructions:
Soak the chia seeds in almond milk for at least an hour or overnight in the refrigerator. Stir occasionally to prevent clumping.

Cook the vermicelli noodles according to the package instructions, then rinse with cold water and set aside.

In a blender, blend the blackberries, honey, lemon juice, cardamom powder, and cinnamon powder until smooth.

In a small bowl, soak the basil seeds in water for about 10 minutes or until they have expanded.

In a tall glass, layer the chia seeds, vermicelli noodles, rose syrup, and blackberry dressing. Repeat until the glass is full.

Add a few drops of vanilla extract and some ice cubes to the glass.

Top with the soaked basil seeds and serve chilled.
Enjoy your chia seed royal faluda with blackberry dressing!
---