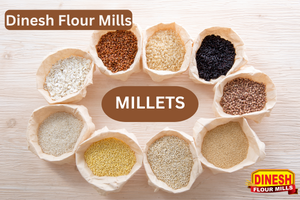 Why Millets are important for our Health ?
Importance of Millets in our Health
Millets are a group of small-seeded grasses that have been cultivated for thousands of years around the world. They are highly nutritious and offer many health benefits, which is why they are considered important for our health. Here are some of the reasons why:
Rich in nutrients: Millets are packed with essential nutrients such as protein, fiber, vitamins, and minerals. They are especially high in iron, magnesium, phosphorus, and potassium, which are crucial for maintaining good health.

Gluten-free: Most millets are gluten-free, making them an excellent alternative for people with celiac disease or gluten intolerance.

Low glycemic index: Millets have a low glycemic index, which means they are digested slowly and do not cause a rapid spike in blood sugar levels. This makes them an ideal food for people with diabetes or those trying to manage their blood sugar levels.

Aid in weight loss: Millets are low in calories and high in fiber, which helps you feel full for longer. This can aid in weight loss by reducing overall calorie intake.

Improve digestion: Millets are rich in fiber, which promotes healthy digestion and prevents constipation.

Reduce the risk of chronic diseases: The nutrients found in millets, such as magnesium, have been linked to a reduced risk of chronic diseases like heart disease, type 2 diabetes, and certain cancers.
In summary, millets are a highly nutritious, gluten-free, and low glycemic index food that can aid in weight loss, improve digestion, and reduce the risk of chronic diseases. Adding millets to your diet is an excellent way to improve your overall health and wellbeing.
---