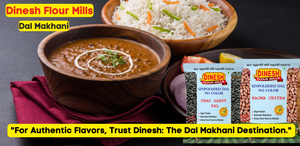 Dal Makhani Recipe
"For Authentic Flavors, Trust Dinesh: The Dal Makhani Destination."
Dal Makhani is a rich and creamy dish made with whole black urad dal (saboot) and kidney beans (rajma). 
Ingredients:
Dinesh Flour Mills Whole black urad dal (saboot) - 1 cup
Dinesh Flour Mills Kidney beans (rajma) - 1/4 cup
Butter - 3 to 4 tbsp (you can adjust as per preference)
Cumin seeds (jeera) - 1 tsp
Ginger-garlic paste - 2 tsp
Onions, finely chopped - 2 large
Tomatoes, pureed - 3 large
Red chili powder - 1 tsp
Turmeric powder - 1/2 tsp
Garam masala - 1 tsp
Fresh cream - 1/2 cup
Salt - to taste
Water
Fresh coriander leaves for garnishing
Kasuri methi (dried fenugreek leaves) - 1 tsp, crushed
Green chilies, slit - 2 (optional)
Instructions:
Preparation of Dal & Beans: Soak the whole black urad dal and kidney beans in plenty of water overnight or at least for 8 hours.

Cooking Dal & Beans: Drain the soaked dal and beans. Add them to a pressure cooker with 4 cups of water and a pinch of salt. Cook under pressure on medium heat for about 4-5 whistles or until both are soft and easily mashed. You can also use an Instant Pot or any other electric pressure cooker for this.

Preparing the Masala: In a large pan or kadai, melt butter. Add cumin seeds and let them splutter. Then, add chopped onions and sauté until they turn translucent.

Add ginger-garlic paste and sauté for another 1-2 minutes until the raw smell goes away.

Add pureed tomatoes, red chili powder, turmeric powder, and salt. Cook the masala on low-medium heat until the oil/butter starts to separate from the mixture.

Mixing the Dal: Add the cooked dal and beans mixture to the masala. Mix well. Add some water if the mixture is too thick.

Let it simmer on low heat for 15-20 minutes, stirring occasionally. This helps in infusing the flavors and making the dal rich and creamy.

Crush the kasuri methi between your palms and add it to the dal. Mix well.

Add garam masala and fresh cream. Stir gently and cook for another 5-7 minutes.

Final Touches: Garnish with fresh coriander leaves, a dollop of butter, or cream. Serve hot with naan, roti, or rice.
Tips:
For a smoky flavor, you can give the dal a 'dhungar' (smoke) treatment. Heat a piece of coal until red hot, place it in a bowl, and add a tsp of ghee or butter on top. Once it starts to smoke, place this bowl inside the pot of dal, cover with a lid, and let it infuse for 3-4 minutes. Remove the bowl and give the dal a quick stir before serving.
You can adjust the consistency of the dal by adding water. Some prefer it thick, while others might want it a bit runny.
Adjust the spices as per your taste.
Enjoy your Dal Makhani!
---