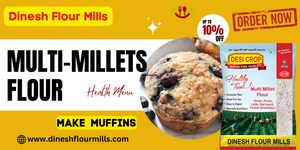 Multimillet Muffins
Ingredients:
1 cup of Dinesh Flour Mills Multi Millets Flour
1/2 cup whole wheat flour
1 teaspoon baking powder
1/2 teaspoon baking soda
1/4 teaspoon salt
1/2 cup sugar
1/4 cup oil or melted butter
1/2 cup yogurt or buttermilk
1 large egg
1 teaspoon vanilla extract
1/2 cup mix-ins (berries, chocolate chips, nuts, etc.)
Instructions:
Preheat the oven to 375°F (190°C) and line a muffin tin with paper liners.
In a large bowl, whisk together the multimillet flour, whole wheat flour, baking powder, baking soda, salt, and sugar.
In another bowl, whisk together the oil or butter, yogurt or buttermilk, egg, and vanilla extract.
Add the wet ingredients to the dry ingredients and stir until just combined. Fold in the mix-ins.
Divide the batter evenly among the muffin cups.
Bake for 18-20 minutes, or until a toothpick inserted into the center comes out clean.
Allow the muffins to cool in the pan for 5 minutes, then transfer to a wire rack to cool completely.
 You can also adjust the sweetness level according to your preference or replace the sugar with healthier alternatives like honey or maple syrup. Enjoy!
---