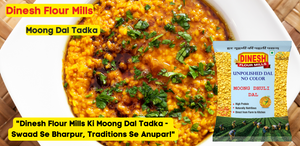 Moong Dal Tadka Recipe
"Dinesh Flour Mills Ki Moong Dal Tadka - Swaad Se Bharpur, Traditions Se Anupar!"
Ingredients:
For the Dal:

1 cup Dinesh Flour Mills Moong DaXal (split yellow lentils)
3 cups water (adjust as required)
1/2 teaspoon turmeric powder
Salt, to taste

For the Tadka/Tempering:

2 tablespoons ghee or oil (ghee gives a richer flavor)
1/2 teaspoon cumin seeds
1/2 teaspoon mustard seeds
1/2 teaspoon asafoetida (hing) - optional
2-3 dried red chilies
1-2 green chilies, slit
1 teaspoon finely chopped ginger
5-6 curry leaves
2-3 cloves of garlic, chopped (optional)
1 medium onion, finely chopped
1 medium tomato, finely chopped
1/2 teaspoon red chili powder
1/2 teaspoon garam masala (optional)
2 tablespoons chopped coriander leaves
1 teaspoon lemon juice (optional)
Method:
Preparation of Dal:

Wash the moong dal thoroughly until the water runs clear. This helps in removing any dirt or impurities.
In a large pot or pressure cooker, add the washed dal, water, turmeric powder, and salt.
If using a pot, boil the dal until it becomes soft and mushy. Keep an eye on it and add more water if required. This might take around 30-40 minutes.
If using a pressure cooker, cook for 2-3 whistles on medium heat. Once the pressure releases, open the lid and check the consistency. If it's too thick, you can add some water and simmer for a few minutes.
Mash the dal lightly with a ladle or spoon to get the desired consistency.

Tadka/Tempering:

In a separate pan or skillet, heat the ghee or oil.
Add the cumin and mustard seeds. Once they begin to splutter, add asafoetida, dried red chilies, slit green chilies, curry leaves, and chopped ginger. Fry for a few seconds.
If using garlic, add it now and sauté until it turns golden.
Add the finely chopped onions and fry until they become translucent.
Add the chopped tomato and cook until it's soft and well-cooked, and the oil starts to separate from the masala.
Mix in the red chili powder.
Pour this tempering over the cooked dal. Mix well. If the dal looks very thick, you can adjust its consistency by adding some hot water.
Let the dal simmer for another 5-7 minutes.
Finish with garam masala, chopped coriander leaves, and lemon juice. Mix well.
Serve the Moong Dal Tadka hot with rice or Indian bread like roti or naan. Enjoy!
"Wholesome Goodness, Flavorful Traditions: Dinesh Flour Mills' Moong Dal Tadka."
---