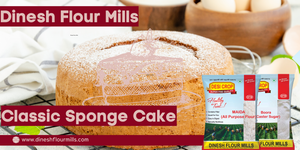 Classic Sponge Cake Recipe
 Ingredients:
200g Dinesh Flour Mills Maida (all-purpose flour)
200g Dinesh Flour Mills Caster Sugar
200g unsalted butter (room temperature)
4 large eggs or equal amount of Condensed Milk
2 tsp baking powder
1/2 tsp vanilla extract
A pinch of salt
Method:
Preheat the oven to 180°C (350°F). Grease and line two 8-inch round cake tins.
Cream together the butter and caster sugar until light and fluffy.
Add the eggs one by one, beating well after each addition. Stir in the vanilla extract.
Shift the maida, baking powder, and salt into the mixture. Fold gently using a spatula until just combined.
Divide the batter equally between the two prepared tins and smooth the top.
Bake in the preheated oven for about 20-25 minutes or until a skewer inserted into the center of the cakes comes out clean.
Remove from the oven and let them cool in the tins for about 10 minutes, then turn out onto a wire rack to cool completely.
Once cooled, you can sandwich the cakes together with your favorite jam or whipped cream, or you can serve them plain.
Enjoy your homemade treats made with maida and caster sugar! Remember, the key to great results is to measure ingredients accurately and follow the recipe instructions carefully.
---