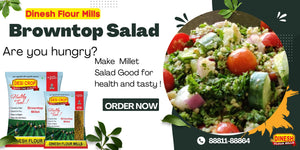 Browntop Millet Salad :
Browntop Millet Salad (serves 4)
Ingredients:
1 cup Dinesh Flour Mills Brown Top Millet
2 cups water
1/4 cup olive oil
Juice of 1 lemon
Salt and pepper to taste
1 cup cherry tomatoes, halved
1 cucumber, diced
1/4 cup chopped fresh mint
1/4 cup chopped fresh parsley
1/2 cup crumbled feta cheese
Instructions:
Rinse the millet under cold water until the water runs clear.
In a saucepan, bring water to a boil, add the millet, then reduce the heat to low, cover and let it simmer for about 15-20 minutes, or until the grains become tender and all the water is absorbed.
Remove from heat and let it stand for 5 minutes, then fluff with a fork and allow it to cool.
In a large bowl, whisk together the olive oil, lemon juice, salt, and pepper.
Add the cooled millet, cherry tomatoes, cucumber, mint, parsley, and feta cheese. Toss well to combine all the ingredients.
Serve immediately or refrigerate for an hour before serving to let the flavors meld together.
Visit Our Website Today: https://www.dineshflourmills.com/products/browntop-millet
 Follow Us On:
Facebook:    https://www.facebook.com/dineshflourmills
Instagram:    https://www.instagram.com/dinesh_flourmills/
Twitter:        https://twitter.com/DineshMills
Pinterest: ..   https://in.pinterest.com/dineshflourmill/
You Tube:   https://www.youtube.com/@dineshflourmills244
 Call/Whatsapp  : 9355135331 ,8881188864
 #dineshflourmills  #onlineshoping  #flourpower  #BakeWithFlour  #AttaLove #HealthyBaking  #WholeWheatFlour #GlutenFreeFlour #MultimilletFlour ,#MixFlour ,#OrganicFlour #HomeBaking #AttaKaDum #MaidaFree #ChakkiFreshAtta #StoneGroundFlour #AttaIsLife  #FlourishWithAtta #BakingEssentials #HighProteinFlour #FlourishAndNourish #BreadMaking #WholeGrainFlour #dfm #groceryhaul #groceryshopping #flour #atta #dfm #softroti #wheatflour #wheatflourmanufacturer #wheatflourmanufacturerindelhi #wholewheatflour #flourwithbran #bran #bigbasket #amazon #onlineshoping #placeorder #ecommerce #orderfromdineshflourmills #orderproductservices #orderproducts  #placingorder #jiomart #ordergrocery #grocery #dfm #SorghumMillet #BarnyardMillet #FoxtailMillet #LittleMillet #KodoMillet #ProsoMillet #PearlMillet #FingerMillet  #RedLentils #GreenLentils #BrownLentils #BlackLentils #YellowLentils #FrenchLentils #BelugaLentils #SplitRedLentils #SplitYellowLentils #MasoorDal #ChanaDal #UradDal #ToorDal #MoongDal #MungBean #Millets #MilletRecipes #HealthyEating #FarmToTable #GlutenFree #AncientGrains  #OrganicFood
---