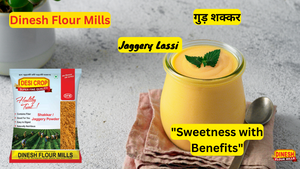 Jaggery Lassi Recipe
Natural and Energetic Health Drink - Desi Lassi !!
Punjab Di Lassi
Ingredients:
1 cup plain yogurt
1/2 cup water
2 tablespoons Dinesh Flour Mills Jaggery powder
1/4 teaspoon ground cardamom
1/4 teaspoon ground cinnamon
Ice cubes
Instructions:
In a blender, combine yogurt, water, jaggery powder, cardamom, and cinnamon.
Blend until smooth.
Add ice cubes and blend again.
Serve chilled.
 Pure and Natural Jaggery Lassi - Yellow Desi Lassi is Ready to Drink !!
---